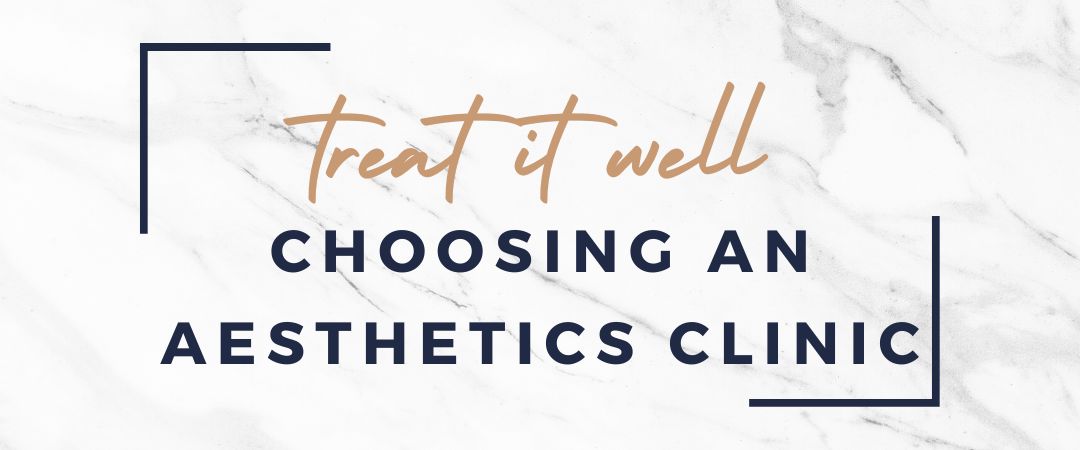 21 Nov

Choosing An Aesthetics Clinic
Choosing An Aesthetics Clinic
Know who is doing your treatments!
In additional to medical training, it's really beneficial to choose a medical aesthetics clinic because you can check they are trained to the level they say that they are. You can research your practitioner on the NMC (Nursing and Midwifery Council), GMC (General Medical Council) and GDC (General Dental Council) website to check their credentials and that they are who they say they are. 
It's important to note how long the practitioner has worked in the medical field- a qualification isn't the same as experience!
Practitioner experience
Ask to see their body of work, have a look at before and after pictures and see if  you like their approach. Check that this is THEIR work, and not something provided by their suppliers. It's important to know how long your practitioner has been doing that particular treatment.
A combination of medical AND aesthetic experience will ensure a well-rounded approach to your consultation, treatment and aftercare.
The right fit
You've also got to feel like the aesthetic clinic and practitioner is the right fit for you. If it doesn't feel right and the connection doesn't feel right, then walk away. It is absolutely your prerogative. Make sure you never feel pressured. 
Consistency
In an ideal world, you want continuity with your treatments. Ideally the practitioner who you had a consultation with will be the one who performs your treatment, and subsequent, related treatments. They know exactly what you've talked about and want to achieve in the long term.
Renew Medical Aesthetics
It's really important that you know Renew Medical Aesthetics is a medical clinic. Our experience, qualifications, results and prices reflect that. We take great pride in what we do, and use our Nursing background to take care of you. After care is also really important, and that is also reflected in our prices. It is very much about a patient/ practitioner led approach. You will always been informed at every stage, and talk to you about what is right for you.
If you'd like to book a free, no pressure consultation with our aesthetic Nurses, get in touch today on 0330 11 8547 or email at

[email protected]

.